It's that time of year again!  Are you wondering how kids will make it through a whole school day? Although these are unusual times, kids benefit from breakfast, lunch and snack to get through the school day.  Kids need fuel to start the day.  They need to refuel at lunch time.  In addition, after school mini meals (aka snack) refuel for after school activities.  And, stop the endless grazing so they will enjoy the time and effort put into a balanced dinner.  Energy packed meals boost kids brainpower.
Energy Packed Meals Boost Kids Brainpower for Academic Success
Regardless of the way school looks for kids this year, energy packed meals and snacks benefit the growth and brain development of children.  Academic success improves by including high nutrient value foods, and reducing processed and sugary foods.  I admit, in the past 3 months, energy packed meals and snacks have been available, but not reinforced as ideal choices.  Over the summer there have been a few extra sweetened treats or drinks.  However, there is no time like the present to make room in the pantry and refrigerator for energy packed meal and snack options.
What is an Energy Packed Meal or Snack?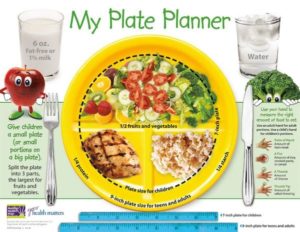 An energy packed meal or snack includes at minimum 2 food groups.  Including an energy and a satiety food.  Energy foods include grains, fruit or dairy. Ideally, a high fiber choice that provides B vitamins.  A satiety food is a food with protein or fat.  Preferably,  healthy fats such as nuts, seeds, avocado or nut butters.  Having a combination of food groups offers a variety of nourishing vitamins and minerals.  And, provides a feeling of fullness to reduce grazing and cravings.  Use the plate and the child's hand as a guide to portion control.  Energy packed meals boost kids brainpower. Some of the highest brainpower foods to include in meals and snacks include:
fish
blueberries
nuts
pumpkin seeds
eggs
broccoli and green leafy vegetables
dark chocolate
whole grains
Start the Day with a Energy Packed Meal
I get it, kids want their sleep!  They hit snooze multiple times, then comes "I don't have time for breakfast."  I worked with kids over the past 4 years and this is a common phrase I heard, especially as they get older.  However, what they may not realize is that they have not eaten in 8 hours or longer.  The brain requires fuel to recharge and function at a higher cognitive level.  Although I do not have the magic fairy dust to get the kids out of bed, except to say the obvious, "go to bed earlier."  I can offer quick breakfast ideas even with minutes to spare: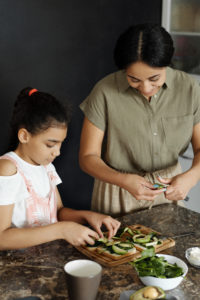 Power Bowl – Greek yogurt, grain of choice (oats, granola), ground nuts or seeds, fruit
Avocado toast and a side of fruit – 2 slices of whole grain toast, smashed avocado with seeds (chia, flax, sunflower, pumpkin)
Energy bar (with <10 grams of added sugar), fruit and glass of milk
Hard boiled egg on whole grain bagel/english muffin, slice of cheese and a side of fruit
2 slices of whole grain bread, 1-2 Tablespoons nut butter, sliced banana
Find more ideas here
Refuel with Energy Packed Meal to Boost Brainpower
Whether lunch is at home or school.  Packed or school lunch.  Take the time to plan an energy packed lunch.  For instance, review the cafeteria menu each week to plan out choices.  Fruit and vegetables are always encouraged.  In my experience,  kids take fruit and vegetables. But, they end up in the trash.  Therefore, take a minute to explain how fruit and vegetables refuel the brain for afternoon classes.  If the cafeteria offers snacks, set limits.  Pre-ordered cafeteria meals could aide in limiting additional snacks and treats.  Refuel with an energy meal to boost brainpower.  Try these suggestions:
Lean turkey or ham on whole wheat bread with avocado spread, cheese stick, whole fruit or no sugar added fruit cup
Bento box – cheese, whole grain crackers, fruit, vegetable
Yogurt, berries, granola, nuts (if allowed), vegetable
Wrap with nut butter (or sunbutter), banana, milk
Salad with hard boiled egg, carrots, cucumber, edamame (or legume of choice), cheese, strawberries, lite dressing
Energy Packed Mini Meals (aka snacks)
Between 3-6pm is a crucial time! Kids come home starving and look for anything to eat.  Snack choices are made that often include sugary or processed foods.  Instead, take a moment to talk with kids about choices to reenergize and nourish the body for activities.  Mini meals are important.  Not only do they refuel the body, mini meals promote satiety so kids don't come to the dinner table starving and overeat.  In addition, mini meals can reduce grazing.  So they come to the table ready to eat a prepared dinner.  Mini meals include 2-3 food groups that are portioned on a plate or bowl.  Check out these ideas:
Homemade trail mix – nuts or seeds, high fiber grain, dried fruit
Ants on the log – celery with nut butter and dried fruit (raisins, cranberries, bananas)
15 Tortilla chips with guacamole
tuna salad on whole wheat crackers
pita bread with hummus and cucumbers
Energy Bites – click here for living plate recipe

Smoothies
For More brainpower Meal Ideas
Energy packed meals can be individualized.  To find out more, or to address your child's personal preferences, contact me here for a complimentary "get to know you" call.  For more Living Plate meal planning ideas, click here for a 3 day trial.
Get to know you call with Laura Cordero
When was the last time someone listened to you? Really listened and provided active feedback. The best way to see if we are a good fit is in a free introductory discovery session.