Squash – yellow, green, orange, white add beautiful fall decor.  But, they're so much more!  Squash may seem intimidating.  Learn how squash can go from stoop to soup and more.   The mounds of colorful, tough-skinned squash and gourds arranged in boxes outside the automatic grocery doors as their more approachable, thin- skinned cousins nestle in their cozy produce-aisle beds.  There's no doubt that members of the Cucurbitaceae family, notably pumpkins, gourds, and winter squash, are beautiful, if not interesting, ornamental works of Mother Nature. But it seems that many are destined to be arranged on the front stoop of homes from September through November.  Let's explore squash – from stoop to soup.
Underneath their colorful, sometimes rough, exteriors is nutrient-dense flesh that does really well in soups – it's just the right amount of starch to yield a creamy texture. Of course straight up baking or roasting your squash is always an option. Many varieties have edible skins and do not need to be peeled.
Kabocha Squash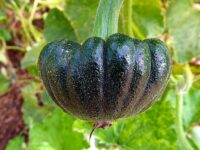 Also known as Japanese pumpkin, kabocha squash has green skin, orange flesh, and a shape similar to pumpkin. The flesh is super sweet when cooked and is rich in beta-carotene – 1 cup has more than 200% DV of vitamin A! Before preparing for cooking, place whole squash in a 350°F oven for about 20 minutes to soften the skin – it will make cutting, peeling, and chopping an easier and much safer experience. Try using kabocha in place of the butternut squash in your favorite soup.
Acorn Squash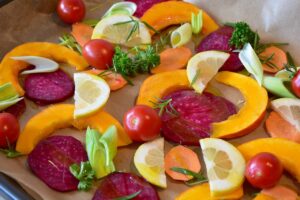 Acorn squash varies in color from dark green to tie-dyed green with orange shades. The flesh is less sweet than kabocha and is more yellow than orange. Just one cup provides more than 25% DV of vitamin C. You can soften the squash if needed by heating in the oven, although it is small enough that this may not be needed. Trim the top from each squash, invert on the cutting board, and slice from bottom to top to create two halves. Remove seeds. You can bake the halves with a drizzle of olive oil and a touch of maple syrup for 30 minutes at 350°F – an excellent side dish. You can also slice into half moons to prepare for roasting.
Sugar Pumpkin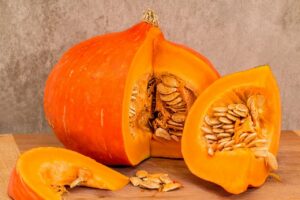 Sugar pumpkins look a lot like carving pumpkins so be sure to select those marked especially for cooking. They are sweeter than those cultivated for jack-o-lantern displays. The best way to cook the flesh is to roast the entire pumpkin – this allows the flesh to remain moist and helps the sugars to develop.
Remove stem from pumpkin, rinse, and make several slits through the skin with a sharp knife. Bake at 350°F for about an hour. Remove from the oven and let sit until cooled. Cut the top portion off [around where the stem would be], remove seeds, and scoop out flesh.  Add pumpkin to hummus and stir into your yogurt. Of course, you can always use it for baking!
Delicata Squash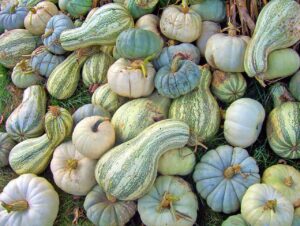 Delicata squash has a mild, nutty flavor, firm flesh, and thin edible skin. Preparing this variety could not be simpler: rinse, cut in half, remove seeds, slice into half-moons, toss with some olive oil and salt and bake at 350°F for about 20 minutes until browned. Delicious enough to eat on their own as a fiber-rich snack!
Food companies have made it their business to repurpose this compost-worthy waste into delicious edible snacks – but you can do this too! Rinse any remaining flesh from seeds and lay out on paper towels to dry. For savory, toss with a bit of olive oil, seasoning of choice, and salt and pepper to taste. For sweet, toss with a bit of melted coconut oil, a touch of maple syrup, cinnamon or other spice, and a pinch of salt. Sweet and savory – why not! All combinations are on the table, including adding a little kick with some cayenne pepper. Roast seeds on a parchment-lined baking sheet at 350°F for about 10-15 minutes or until lightly browned. Enjoy as a snack or topping for salads, yogurt, oatmeal, or chia pudding.
Squash – Stoop to Soup Recipes and More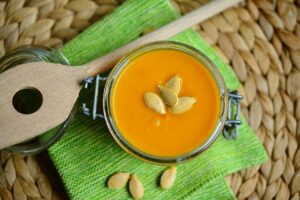 Soups, roasted or seeds including squash provide nutrient packed flavor too many recipes.
Packed with plant based protein, fiber, Vitamin A, Vitamin C and antioxidants.
Try these recipes to get started.  Source Nourish 2 Thrive Meal Garden:
Kabocha, Leek and Mushroom Quiche
Chili "Cheese" Oven Roasted Acorn Squash
To learn more about buying, storing and cooking winter squash, check out The 11 Varieties of Winter Squash You Need to Know.
Get to know you call with Laura Cordero
When was the last time someone listened to you? Really listened and provided active feedback. The best way to see if we are a good fit is in a free introductory discovery session.